Podcast: Play in new window | Download
Learning From The Bulletproof Musician To Practice And Play Your Best!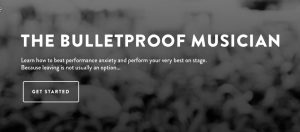 Welcome to Episode 40 of The Golf Improvement Podcast. Dedicated to bringing you useful information on custom club fitting, short game improvement, and effective practice techniques to Take YOUR Game To New Heights!
Show Notes:
Off to the 10th Assn. of Golf Clubfitting Professionals (AGCP) Roundtable for another great week of learning!
Interview with Noa Kageyama – Sport and Performance Psychologist and Faculty Member at The Julliard School – and The Bulletproof Musician.
Noa talks about His Story – how he first became interested in learning how to practice and play better music!

He talks about how he gathers the interesting information that he presents on his weekly Bulletproof Musician blog post.

Noa discusses the most important misconceptions that he believes people have about effective practice – and how to change these misconceptions.

He talks about performing "Under The Gun" in the context about things that golfers can do to perform better when it matters most to them.

Noa talks some about his on-line course "Beyond Practicing" (which in fact is designed for musicians), and one personally inspiring success story from a musician who has taken this course.

Finally Noa gets The Last Word – and provides Two Great Books he recommends that can help golfers learn to perform their best.
Thanks Noa – for the wonderful advice and great book recommendations!
Useful Web Links:
To find Noa's Bulletproof Musician web site and terrific blog posts – Click HERE!
To learn more about the book "Fight Your Fear And Win" – Click HERE!
To learn more about the book "10-Minute Toughness" – Click HERE!
To learn more about the Golf Science Lab Motor Learning Virtual Summit – Click HERE!
Taking YOUR Game To New Heights!
Tony