Podcast: Play in new window | Download
John Graham, Tour Player Putting Instuctor
Shares Insights To Help Golfers Putt Their Best!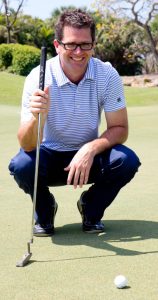 Welcome to Episode 53 of The Golf Improvement Podcast. Dedicated to bringing you useful information on custom club fitting, short game improvement, and effective practice techniques to Take YOUR Game To New Heights!
Show Notes:
My "Bucket List" trip to work at the 2016 U.S. Open at Oakmont Country Club in Pittsburgh, PA!
Interview with John Graham – full-time putting instructor for PGA, LPGA, and Web.com Tour players, Director of Instruction at the Webster Golf Club in Webster NY, and Level 3 AimPoint Instructor.
John talks about His Fascinating Journey to becoming a full-time Tour player putting instructor.

He talks about what a "typical week" is for him working at a Tour Event.

John tells us some of the most important Skill Sets he has developed to help Tour players putt their best – and some Skill Sets he had to develop.

He talks about the Biggest Surprises he had in terms of working to help Tour players improve their putting.

John lets us know some of the biggest takeaways he can share with us – from working with Tour players – to help us improve our putting.

John shares some important things about AimPoint green reading that we might not be aware of.

He talks about some of the most satisfying improvements that he has experienced from his Tour player instruction.

Finally, John shares some final interesting insights and suggested tasks to help all golfers putt their best.
John congratulations on your success and thanks for sharing your knowledge about Putting Improvement!
Useful Web Links:
Learn more about John Graham and his Short Game Secrets instruction video partnership – Click HERE!
Watch this interesting video on Putting "Speed vs Line" – Click HERE!
Taking YOUR Game To New Heights!
Tony