Podcast: Play in new window | Download
Real Golf = Real Golf IMPROVEMENT!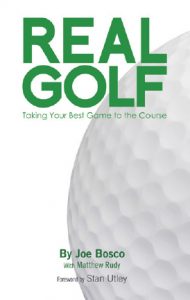 Welcome to Episode 55 of The Golf Improvement Podcast. Dedicated to bringing you useful information on custom club fitting, short game improvement, and effective practice techniques to Take YOUR Game To New Heights!
Show Notes:
Interview with Joe Bosco from Joe Bosco Golf – PGA Teaching Professional at the Glen Club in Chicago, Illinois – and author of the book "Real Golf – Taking Your Best Game to the Course."
Joe talks about His Story – how he became a golf teaching professional, and how he decided to develop the Real Golf Practice Approach.

He discusses the basics of Real Golf – and the value and experiences that golfers typically get from using this great way to practice.

Joe talks about some of the most interesting success stories that golfers of all abilities have had when applying the Real Golf practice approach.

He talks about the update to the Real Golf book that he is close to completing, the things that lead to him working to write this update, and some of the valuable information that will be in the update.

Finally, Joe provides some Final Words to golfers – thoughts and information to help you improve and play your best golf.
Useful Web Links:
To learn more about Joe Bosco and Joe Bosco Golf – AND to download his free "3 Unheard of Putting Drills …" eBook – Click HERE!
To buy the Real Golf book on Amazon.com – Click HERE!
Taking YOUR Game To New Heights!
Tony