One Gorgeous Golf Course!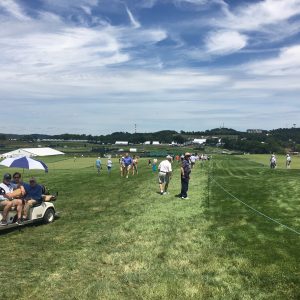 It was great to spend the day at Oakmont today – day one of this year's U.S. Open. The greens are FAST – watching golfers hit putts on the practice green clearly lets you see what a challenge Oakmont will be this year – as it always is.
I spent much of the day watching the player's practice on the practice greens and at the chipping and pitching range. And the Biggest Impression I had is that you could see a difference in how many of the tour pros practiced on the greens. Some hit a lot of putts, but did not truly focus on their routines and did not seem to be strongly engaged. Some though had Great Intent in their practice – they wanted to, as best as possible, dial in their strokes to get the right feel for the super-fast speeds of the Oakmont greens. I especially loved watching Jim Furyk practice – very few uphill putts, lots of big downhill and big breaking putts. I bet he has a very good week on these greens.
I think fewer putts with more intent is a winning formula for success on the greens – can't wait for the rest of the week!
Taking YOUR Game To New Heights!
Tony