Podcast: Play in new window | Download
On Course Golf Coaching Leads To
Golfers Shooting Lower Scores!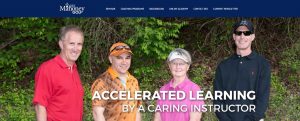 Welcome to Episode 59 of The Golf Improvement Podcast. Dedicated to bringing you useful information on custom club fitting, short game improvement, and effective practice techniques to Take YOUR Game To New Heights!
Show Notes:
Interview with Des Mahoney from Des Mahoney Golf – PGA Golf Instructor at the Centennial Golf Academy in Oak Ridge, TN
Des talks about His Story – how he became a PGA Teaching Professional and how he came to Oak Ridge, TN and the Centennial Golf Academy.

Des now offers a Coaching Based Instruction Program (starting about a year ago). He talks about why he started this new program, and what he particularly likes about this approach to helping golfers achieve their potential.

Des describes a typical on-course coaching session with golfers – what they do, and what they particularly pay attention to on the golf course.

He talks about the importance of golfers tracking some key statistics when they play, and what he has his students track when they play.

Des describes a few of the most satisfying golfer success stories for golfers who have gone through his new coaching program.

Finally, Des provides some Final Takeaways to golfers who want to learn to play to their potential and significantly lower their scores.
Thanks Des for describing this great approach to helping golfers play their best and have more fun on the golf course!
Useful Web Links:
To learn more about Des Mahoney Golf and his new On Course Coaching Based Instruction Program – Click HERE!
Taking YOUR Game To New Heights!
Tony