Podcast: Play in new window | Download
Don Coyle Helps You Learn Some Important
Custom Club Fitting Misconceptions!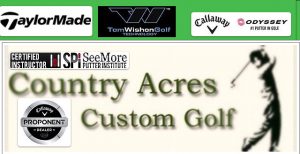 Welcome to Episode 70 of The Golf Improvement Podcast. Dedicated to bringing you useful information on custom club fitting, short game improvement, and effective practice techniques to Take YOUR Game To New Heights!
Show Notes:
Interview with Don Coyle from Country Acres Custom Golf in Mount Vernon, IL. – AGCP Level 10 Custom Club Fitter and 2015 and 2017 Golf Digest Top 100 Custom Club Fitter.
Don tells His Story – how he originally became interested in custom club fitting, and some of the most important things he learned to learn to become a top custom club fitter.

He talks about how he created his Custom Fitting Studio and Golf Club Workshop (see web site link to see his setup!)

Don discusses his perspective on some of the Most Important Misconceptions that many golfers have about True Custom Club Fitting.

He now uses the Edel Golf Torque Balanced Fitting Cart and fitting approach, and he talks about the value of this fitting approach to help golfers putt their best.

He discusses some of his most satisfying Success Stories with younger golfers.

Finally Don provides a few Final Words and Suggestions for golfers who want to play their Best Golf!
Thanks Don for sharing your knowledge and experiences!
Useful Web Links:
To learn more about Don Coyle and Country Acres Custom Golf – Click HERE!
To learn more about the Edel Golf Torque Balanced Putters – Click HERE!
Taking YOUR Game To New Heights!
Tony