Podcast: Play in new window | Download
Learning New Golf Swing Motor Skills Using
The IKKOS Motor Learning System!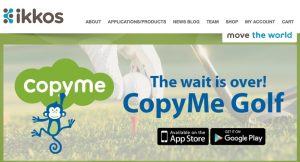 Welcome to Episode 76 of The Golf Improvement Podcast! Dedicated to bringing you useful information on custom club fitting, short game improvement, and effective practice techniques to Take YOUR Game To New Heights!
Great learning last week at the David Orr Flatstick Level 1 Putting Coach Certification Class!
Interview with Sean Hutchison – inventor of the IKKOS Motor Learning System.
Sean tells His Story – from being a successful Olympic swimming coach to developing the IKKOS motor learning training system.

He discusses some of the important Motor Learning Concepts that are important to IKKOS – and tells us where "IKKOS" came from.

Sean talks about exactly what the IKKOS system is, and how golfers can use it to improve an element of their golf games. Getting "a little bit better!"

He discusses how golfers can balance the value of visual learning with not trying to get too tied up in golf swing mechanics.

Sean shares a great Success Story about a golfer who used IKKOS when he was injured!

He gives us some hints of some great new IKKOS resources "coming down the pike."

Finally, Sean shares some Final Words and Advice for golfers who want to make positive changes to their golf games.
Sean ALWAYS fun to talk with you and learn from you!
Useful Web Links!
To learn more about Sean Hutchison and IKKOS – Click HERE!
NOTE: you can download the CopyMe Golf IKKOS app directly from your smart phone.
Taking YOUR Game To New Heights!
Tony
Click HERE – Receive My Podcast and Blog By eMail