Podcast: Play in new window | Download
Robb Gibb Provides Insights From The
First World Putting Conference!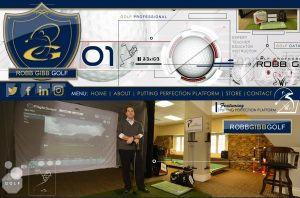 Welcome to Episode 78 of The Golf Improvement Podcast! Dedicated to bringing you useful information on custom club fitting, short game improvement, and effective practice techniques to Take YOUR Game To New Heights!
Show Notes:
Insights from my recent Putting Is HARD Day!
Interview with Robb Gibb – Level 3 Senior SAM PuttLab Instructor, and East Coast Science & Motion Sports Sales Representative.
Robb provides some background about the recent First World Putting Conference and the major purpose of the conference.

He discusses what he talked about at the conference in terms of SAM PuttLab software improvements, and in particular about a great new putting improvement tool – Puttview.

Robb talks about highlights from some of the major conference presentations – and some surprises he had in terms of things he learned.

He tells about things he learned about how to use data to help golfers play their best – and also some insights on the mental side of putting improvement.

Finally – Robb shares some Final Words for putting instructors and golfers.
Thanks for sharing Robb!
Useful Web Links:
To learn more about Robb Gibb and Robb Gibb Golf – Click HERE!
To watch a short video about PuttView – Click HERE!
Taking YOUR Game To New Heights!
Tony