Podcast: Play in new window | Download
Jamie Donaldson Shares AimPoint Express Information
To Help Golfers "Make Putting Great Again!"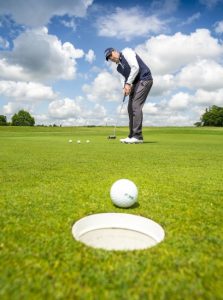 Welcome to Episode 89 of The Golf Improvement Podcast!  Dedicated to bringing you useful information on True Custom Club Fitting, Short Game Improvement, and Effective Practice Techniques.  Bringing You The Custom Club Fitting Experience Of Your Life – and Lower Scores ALWAYS!
Show Notes:
Interview with Jamie Donaldson – Europe's Senior AimPoint Green Reading Instructor.
Jamie talks about how he "took the plunge" to become Europe's first AimPoint Putting Coach.

He shares interesting perspectives on the benefits of using the AimPoint Express green reading process.

Jamie talks about some tasks and drills that he assigns golfers to work on after an AimPoint Express class.

He discusses helping Tour Players to understand and adopt AimPoint Express.

Jamie also shares helping high-handicap golfers (15 handicap and above) to use AimPoint Green Reading to putt their best.

He shares his knowledge on how grain in greens can influence an AimPoint Express read.  (LISTEN CAREFULLY!)

Jamie shares some of his most satisfying AimPoint Express coaching experiences.

Finally – Jamie provides some Final Words on additional tasks golfers can do to improve their putting through improved green reading.
Wonderful Information For Golfers – Thanks Jamie!!
Useful Web Links:
To learn more about Jamie Donaldson – Click HERE!
To connect with Jamie on Twitter – @golfdonaldson
To learn more about AimPoint Golf and find an AimPoint Express Instructor in your area – Click HERE!
To read the great AimPoint blog posts – Click HERE!
September – Support Game Improvement Golf! – Learn More HERE!
Bringing You The Custom Club Fitting Experience
Of Your Life – And Lower Scores ALWAYS!
Tony