Podcast: Play in new window | Download
John Dunigan's Great New Book "Hole It!"
Mastering Putting's 3 Essential Skills!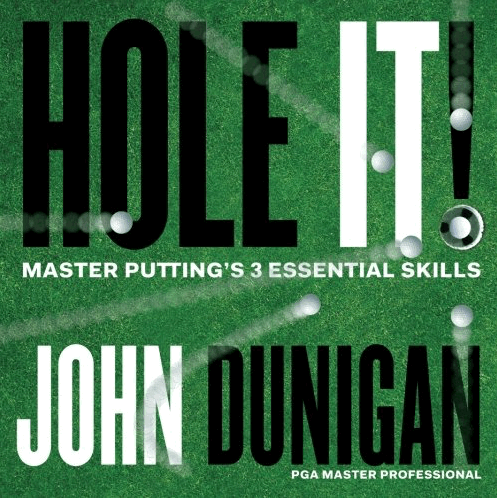 Welcome to Episode 112 of THE Golf Improvement Podcast!  Dedicated to sharing useful information on true custom club fitting, short game improvement, and effective practice techniques.  Bringing YOU The Custom Club Fitting Experience Of Your Life – AND Lower Scores ALWAYS!
Show Notes:
Interview with PGA Master Professional John Dunigan from John Dunigan Golf John teaches at White Manor Country Club in Malvern, PA
John shares His Story – how he became a professional golf instructor and what has driven him to learn and share so much about putting instruction.

It took him 2 years to write his new book "Hole It!"  He talks about why he wrote this book, and a little about what he learned about himself in the process.
John emphasizes a wonderful word REFLECT in the book – he shares the importance of this word to how he coaches golfers to improve their putting (Read, Roll, Reflect!).

He states many times in the book that The Putting Stroke Is NOT A Skill.  He talks about the importance of this statement for golfers who want to learn to putt their best.

John talks about his belief that the #1 putting skill that golfers need to learn is Speed.  And also about his belief that reading greens is an easy skill to learn.

He shares a number of excellent putting speed drills in the book, and talks in particular about one – "USE THE FORCE!"

A quote from the book – "I beg you. For the rest of your golfing days, use a 'ball gate' or some other feedback device so that you can check line off of your putting agenda."  John shares why he feels so strongly about this statement.
One of the great sections in the book is "How Do You Play Break The Best? Where You Focus Your Attention Is A Very Big Deal!"  He shares how he learned the information in this section of the book and why it is important.
Finally, John Shares some Final Words for putting coaches and golfers related to the information in "Hole It!"
What a great new Putting Improvement Resource John – THANKS!
Useful Web Links!
Purchase "Hole It!" from John Dunigan's web site – CLICK HERE!
Purchase "Hole It!" from Amazon.com – CLICK HERE!
Learn about John's Putting Training Aids – CLICK HERE!
Bringing YOU The Custom Club Fitting Experience
Of Your Life – AND Lower Scores ALWAYS!
TONY