Podcast: Play in new window | Download
Master Custom Club Fitters:
Helping Golfers Play A Better Game!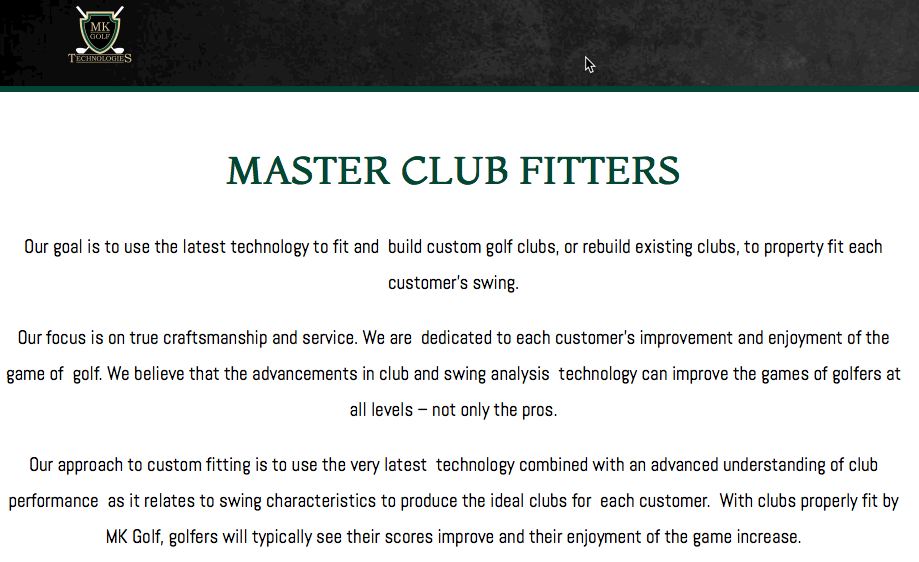 Welcome to Episode 114 of THE Golf Improvement Podcast!  Dedicated to sharing useful information on true custom club fitting, short game improvement, and effective practice techniques.  I Create Exceptional Golf Clubs – YOU Shoot Lower Scores!
Show Notes:
Interview with Mark Vallier – CEO, Master Fitter, and Master Builder with MK Golf Technologies in San Antonio, Texas.
Mark shares His Story – how he got started in the custom club fitting business, and how he and Kirk James started their partnership.

He talks about how – over the past few years – the custom fitting business at MK Golf Technologies has grown substantially.  He also talks about some of the most important mentors who have helped this growth.

Mark shares his thoughts on some of the biggest hurdles golfers have in terms of understanding how true custom club fitting can help them play their best golf.

MK Golf has a dedicated club builder – Jamie Watson.  Mark shares how the partnership with Jamie came about – and also talks about the importance of custom club building in true custom club fitting.

He shares his views on some of the most satisfying types of custom fittings that they do at MK Golf, and some success stories he has enjoyed the most.

Finally – Mark provides some Final Words for golfers to help them play their best – and to custom fitters to help them do their best work to help golfers.
Great Information Mark, Thanks For Sharing!
Useful Web Links:
Learn more about Mark Vallier, MK Golf Technologies
in San Antonio, TX – CLICK HERE!
I CREATE EXCEPTIONAL GOLF CLUBS
YOU SHOOT LOWER SCORES!
TONY