My DECADE "Shoot Lower Scores"
Experience Starts TODAY!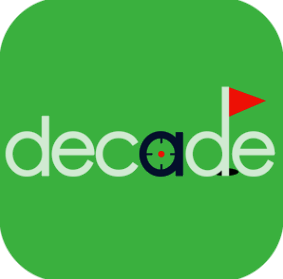 For a once-a-week 69-year old golfer, it has been fun to be playing some of my best-ever golf over the last 2 months.  My handicap is now 8, the lowest it has been in years.  I attribute this partly to playing with the best set of clubs I have ever had (you know who created them!) and also with "dabbling" with the concepts I have been exposed to on social media from Scott Fawcett's DECADE Strategy and Statistics System. Some of the things I have done over the past few months to improve my scoring include…
Choosing targets to the center of greens on almost every shot.

Committing more and more to each individual shot.
I have found that the more I do these two things when I play, the more easily it is to play well and score well.  And when I do NOT do these two things, playing well and scoring well is not likely.
Well I want to take my course management skills (and scoring) to the next level!  So today I did two things….
First, I subscribed to Scott's DECADE Basic system and I will start using this to better plan my targets and scoring approaches.
Second, in one of Scott's tutorial videos, he suggests reading and learning from some books written by Michael Lardon.  So I just purchased Finding Your Zone and am looking forward to reading it and learning from it.
You will hear more about what I learn from using DECADE on future blogs and podcasts and in my monthly newsletter.  Read THIS ARTICLE to learn a little more about DECADE – and listen to this recent Cordie Walker – Scott Fawcett podcast. DECADE seems to be working very well for Bryson DeChambeau and many others – take a good look at it for your game!
    (ah yes – no podcast today – BACK NEXT MONDAY!!)
I CREATE EXTRAORDINARY GOLF CLUBS
YOU SHOOT LOWER SCORES!
TONY