My Favorite Golf Improvement Books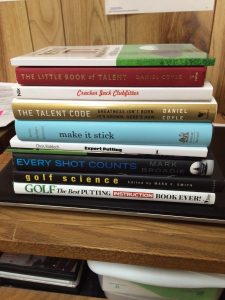 Well, for my loyal blog readers – here is Surprise #1 that I talked about a few weeks ago. I spent about four hours creating a group of links to My Favorite Golf Improvement Books. There is a neat piece of software that I used to do this – MyBookTable. I had to get a few kinks worked out, but this list is now available for viewing. Here are links to my favorite Golf Improvement Books, in three categories:
These are all books that I have personally read and love. If you are looking to learn useful knowledge in these areas, I hope you take the time to consider these books.
Just to be sure you know – if you buy one of these books by clicking a purchase link, I get a small Affiliate payment from your purchase.
So that is Surprise #1. Surprise #2 (blockbuster!) is coming in a month or so – and you will get a sneak preview of it before it happens. Stay tuned!
How About You? – any additional books you think I need to add to this list? – please comment below.
Taking YOUR Game To New Heights!
Tony