Podcast: Play in new window | Download
Gavin Parker Is Planting Golf Seeds
And Growing Our 

Great

 Game!!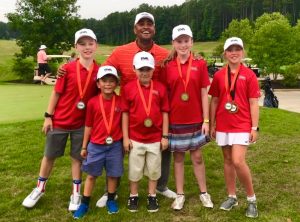 Welcome to Episode 124 of THE Golf Improvement Podcast!  Dedicated to sharing useful information on true custom club fitting, short game improvement, and effective practice techniques.  I Create EXCEPTIONAL GOLF CLUBS – You SHOOT LOWER SCORES!!
Show Notes:
Interview with Gavin Parker – PGA Member and Academy Director at the Salisbury Golf Academy at the Salisbury Golf Club in Midlothian, VA.
Gavin shares His Story – what drew him to golf and becoming a PGA Teaching Professional.

In addition, he shares what drew him to focus on teaching young children to play golf.

Gavin shares his enthusiasm for using "Operation 36" and "Birdie Basics" in his teaching programs, and the benefits of these for young golfers.

He discusses how he works with young golfers to help them grow a passion for our game, and to develop their own abilities for being self-motivated to improve their games.

Gavin talks about his "secret weapon" tool – his enthusiasm! – to help young golfers to learn and enjoy golf.

He shares his views on what is easy and what is difficult about teaching young golfers.

Gavin discusses how he translates what he does with young golfers to his teaching of adults.

Finally, Gavin shares some of his personal Success Stories, and some Final Words for parents, young children, and golfers who want to play their best and be their best!
Gavin THANKS for sharing your amazing enthusiasm and knowledge with young golfers!
Useful Web Links:
Learn about Gavin Parker and the Salisbury Golf Academy – Click HERE!
Learn about "Operation 36" – Click HERE!
Learn about "Birdie Basics" – Click HERE!
SHOUT OUT! – To PGA Professional Susie Meyers and here terrific golf improvement book Golf From Point A – and THANKS for your help Suzie!
I Create EXCEPTIONAL GOLF CLUBS
You SHOOT LOWER SCORES!
TONY