Podcast: Play in new window | Download
Understand Putter Hosel Designs And
Improve YOUR Putting Performance!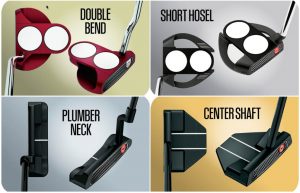 Welcome to Episode 130 of THE Golf Improvement Podcast!  Dedicated to sharing useful information on true custom club fitting, short game improvement, and effective practice techniques.  I Create EXCEPTIONAL GOLF CLUBS – You SHOOT LOWER SCORES!
Show Notes:  
Welcome back Bruce Rearick from Burnt Edges Consulting in Indianapolis, Indiana!
Bruce shares some of the interesting things he has been doing since our last interview (about 2 years ago).  Including a "deep-dive" looking back at all of his putter fitting data.

A friend recently shared that "my putter preferably needs to be a Plumbers Neck."  Bruce starts out discussion about how in general putter hosel designs are important in putting performance – beyond "looking good" to the golfer's eye.

He first shares some background about Plumbers Neck Hosels – how they can influence putting performance – and the design differences between Long and Short Plumbers Neck Hosels.
What about Center Shafted Putters? – Bruce shares when this style of "hosel" can help golfers improve their putting.
Short and Long Slant Neck Putter Hosels – he shares what differentiates these from other hosel designs from a putting performance and visual standpoint.
Short and Long Flow Neck Hosels – Bruce loves the look of these (a personal thing!), and also shares when these can be a good option for golfers.

Single and Double Bend Putter Shafts 

– he shares how these are used to create different putting performance characteristics.

Finally, Bruce shares some Final Words and Thoughts for golfers who want to "Burn Less Edges" when they are putting!
THANKS Bruce – Keep Doing Great Things!
Useful Web Links:
Read Bruce Rearick's Burnt Edges Consulting Blog – CLICK HERE!!
Follow Bruce Rearick on Facebook – CLICK HERE!!
See Toulon Design Hosel Guide Web Page –  CLICK HERE!!
SHOUT OUT!! – A return Shout Out to Roy Nix, Founder of the Association of Golf Clubfitting Professionals (AGCP) – for completing the new AGCP web site.  It contains valuable information for golfers, custom fitters, and club makers.  Take a look at THIS LINK!!
I Create EXCEPTIONAL GOLF CLUBS
You SHOOT LOWER SCORES!!
TONY