When Custom Fitting The Grandson …
Length – Length – Length!!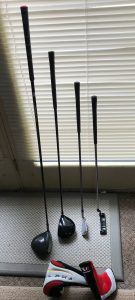 "Hey Dad – can you build Madux some golf clubs for his birthday?"  Madux Wright is 9 years old, pretty athletic, and left handed.  I COULD just buy him some junior clubs, but building them specifically for him and his size is what a custom fitting expert grandfather should do.
The picture above shows MY driver (44 inches long), and the driver, 7 iron, and putter I built for him.  Custom heads, shafts, and grips. My driver is about 8 inches shorter than his.
Here are some of the specifics of how I approached this "grandson build."
Madux has a wrist-to-floor measurement of 25 inches.  I consulted with good friend Dan Connolly – who developed the True Length Technology process for determining club length.  He created a build length chart for someone with a 25 inch wrist-to-floor measurement.  I built his clubs using the 26 inch chart. (By the way, my wrist-to-floor measurement is 36 inches….)

I used very soft flex shafts for the driver and 7 iron.

The swing weights and MOI values for the clubs are really really light.  But Dan suggested to not worry about swingweight for these clubs, not really a fitting parameter for a very young golfer.  Length wins.

Ultimately I will build two more irons for Madux – a pitching wedge and sand wedge – and a 22 degree hybrid.  His irons will be a bit unique because I am using the Wishon Sterling Single-Length iron heads.  A great way for him to groove consistency for how he will swing his irons.

And finally, junior sized grips.
We went to Top Golf in Atlanta this past Saturday so he could start learning to love his clubs.  Check out this Madux 7 Iron Swing Video – the club sets up beautifully for him.  The same for his driver.  He looks comfortable swinging the club, and he created a lot of satisfying results.  A good start for him!
So now for the proud grandpa custom fitter to finish the rest of his clubs.  Length – Length – Length!
I Create EXCEPTIONAL GOLF CLUBS
You Shoot LOWER SCORES!!
TONY