Podcast: Play in new window | Download
Scott Young Talks 

About

 ULTRALEARNING
Mastering Hard Skills – Like Golf!!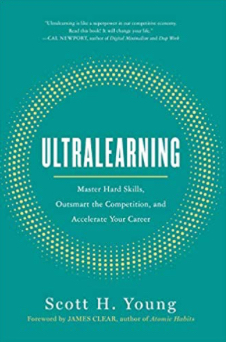 Welcome to Episode 135 of THE Golf Improvement Podcast!  Dedicated to sharing useful information on true custom club fitting, short game improvement, and effective practice techniques.  I Create EXCEPTIONAL GOLF CLUBS – You SHOOT LOWER SCORES!
Show Notes:
Interview with Scott Young – Author of the great new book ULTRALEARNING.
Scott shares His Story – what lead him down the path to Ultralearning, and some of his personal mindset about learning and taking on difficult and interesting improvement efforts.

He shares his definition of Ultralearning and some of the elements of it that are different from traditional forms of learning.

Scott lets us in on why he wrote this new book!

The book discusses 9 specific principles of Ultralearning projects. Scott shares his thoughts on my personal favorite – DIRECTNESS.

My second favorite principle is EXPERIMENTATION – and he discusses some of the most important characteristics of experimentation.

A friend recently shared this Lee Elder quote – "The best way to learn golf is to choose one department of the game and get good at it before branching out."  Scott shares some of his ideas for implementing the book's principles into improving our golf games!

Finally – Scott shares some final words of encouragement for golfers who want to create their own Ultralearning Projects to improve their golf performance.
THANKS For Sharing Some Great Information Scott!!
Useful Web Links:
Learn More about Scott Young and Ultralearning – CLICK HERE!
Purchase Ultralearning on Amazon.com – CLICK HERE!
Shout Out! 
To Steven Yellin – Creator of the Fluid Motion Factor program – using Fluid Cues has been a "secret weapon" of my personal golf game!
I Create EXCEPTIONAL GOLF CLUBS
You SHOOT LOWER SCORES!
Tony