OWN Your Putter Grip!
Correct Grip Installation MATTERS!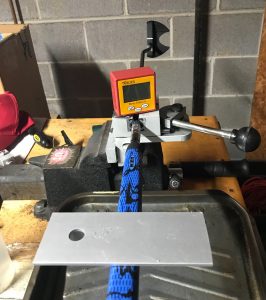 About a month ago I changed putters, to a Cleveland Huntington Beach 10. I love this putter, and I am making more putts!  I bought a Grip Master leather putter grip to install on the putter – I have always wanted one of these.  But while waiting for it to come, I installed my "old faithful" Winn Tour Pistol grip – and the lineup of the flat side of the grip looked ABSOLUTELY PERFECT.  For now, I am going to stick with the Winn!
Whenever I see a golfer, one of the first things I look at is the putter grip – has it been installed correctly?  Not twisted one way or another – so that the face can be open or closed at address?  There are many ways to install a putter grip correctly – using lasers, or by eyeball are examples.  My personal favorite is illustrated in the picture in this post – here is what I do…
I put the putter in my vice, and "zero" out the digital gauge that I have sitting on top of the vice surface.

I adjust the putter face so that I get as close as possible to a "90 degree" reading with the digital gauge on the face.

Then I install the grip, and visually look down the flat surface to see if it as a start looks to be installed correctly.

I then put the little flat plate in the picture on top of the flat surface of the grip – at different locations along the length – and visually see of the grip is installed correctly.

THEN I take the putter out of the vice.  And EVERY 10 MINUTES, for at least 30 minutes, I look at the lineup of the grip again and make small tiny adjustments as needed.  Sometimes putter grips can move a little right after they are installed – and I correct for this.

I also prefer – if at all possible – that the golfer is with me when I install his or her putter grip.  So that they can see for themselves if the grip is put on perfectly.
So What Does This Mean For YOU?  Here are some simple thoughts and suggestions.
First, the next time you get a chance – look at how your putter grip is installed on your putter!  Look down the flat side, and see – is it square, or twisted one way or another?  And is this the way you want it to be an expect it to be?

If you get a new putter grip installed, do not assume it will be installed perfectly.  Be there when it is installed if at all possible, and be sure it looks right to YOUR Eye.  It is YOUR Putter!!
I Create EXCEPTIONAL GOLF CLUBS
You SHOOT LOWER SCORES!!
Tony