Podcast: Play in new window | Download
Stories And Golf Performance:
Learning From Paul Dewland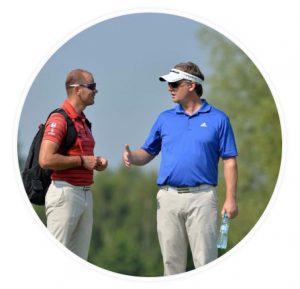 Welcome to Episode 145 of THE Golf Improvement Podcast!  Dedicated to sharing useful information about true custom club fitting, short game improvement, and effective practice techniques.  I Create EXCEPTIONAL GOLF CLUBS – You Shoot LOWER SCORES!!
Show Notes:  Welcome back Mental Performance Coach Paul Dewland from Paul Dewland Golf based in Orlando, Florida.
Paul  shares a golfer success story 9 years in the making!

Why is the topic "The Origin of Stories" an important topic for golfers to understand?

Paul talks about our "mental roommate" and the role of Stories in making up our minds deliberately and unconsciously.

He talks about the role of Stories in our Compulsions – and how we can improve our Creativity and Skill Development.

One of Paul's favorite phrases is "Awareness Is Curative."  He shares a simple and powerful exercise we can all do daily to improve our awareness of our thoughts and strories.

Finally, Paul encourages all of us to Find Simple Things To Do Daily – and how attention to simple things can create big benefits for our golf and life.
THANK YOU FOR SHARING PAUL!
Useful Web Link…
Learn more about Paul Dewland and Paul Dewland Golf – CLICK HERE!!
Shout Out!!
Thanks to Preston Combs, Preston's Putting in Santa Barbara, California.  For continuing to share your knowledge, and for the yearly invite to the wonderful Preston's Dinner on Wednesday evening of the PGA Show!  
CLICK HERE to learn more about Preston's Putting!
I Create EXCEPTIONAL GOLF CLUBS
You Shoot LOWER SCORES!!
Tony