Podcast: Play in new window | Download
Performance Based Club Fitting:
Learn From Master Custom Fitter Bert Reich!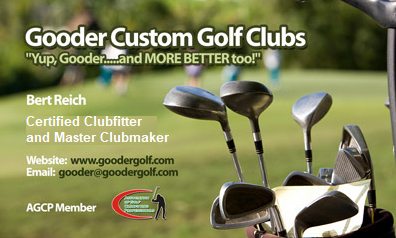 Welcome to Episode 150 of THE Golf Improvement Podcast!  Dedicated to sharing useful information on true custom club fitting, short game improvement, and effective practice techniques.  I Create EXCEPTIONAL GOLF CLUBS – You Shoot LOWER SCORES!
Show Notes:
Welcome back master custom fitter and club builder Bert Reich, owner of Gooder Custom Golf Clubs in Saskatchewan, Canada!
Bert shares some of the personal club building efforts he is doing during the COVID 19 shutdown.

He talks about three wonderful success stories – a great ball striker and now college golfer, a golfer who "used" to not be able to break 100, and the story about his personal "tried and true" Wishon driver.

Bert discusses some of his Most Important Custom Fitting Principles that he uses to create great success with golfers.

He talks about the value of using Shaft Extenders to create a more valuable club fitting shaft system.

He shares some of the details of his driver and iron shaft fitting system – more than 175 driver fitting shafts and more than 100 iron fitting shafts.

Finally – Bert talks about some additional areas that golfers should understand if they want to experience a true custom fitting and Play Their Best Golf!
Well Bert you wanted to return and share more valuable knowledge with us – THANKS FOR DOING THIS!!
Useful Web Links:
Bert Reich and Gooder Custom Golf Clubs – CLICK HERE!!
Shout Outs!
To my wife Diane for 23 years – 276 months – of marriage and fun!
To Dr. Mark Bull, a Golf Biomechanics Expert – Bull 3D.  Over the last month, Mark did a 4 part free webinar series sharing some of his extensive knowledge – THANKS MARK FOR BEING SO GIVING!
Finally, thanks to all of you listeners and experts I have interviewed who helped me to create 150 amazing podcast episodes to help golfers Play Their Best!
I Create EXCEPTIONAL GOLF CLUBS
You Shoot LOWER SCORES!
Tony
CLICK To Subscribe To My Blog And Podcast!!