Podcast: Play in new window | Download
So – Do You LOVE Putting?
Some Great David Orr Insights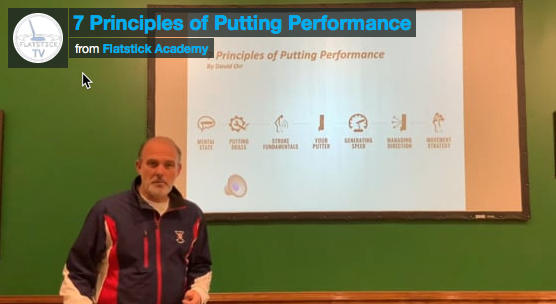 Welcome to Episode 151 of THE Golf Improvement Podcast!  Dedicated to sharing useful information on true custom club fitting, short game improvement, and effective practice techniques.  I Create EXCEPTIONAL GOLF CLUBS – You Shoot LOWER SCORES!!
Show Notes:
Welcome back world renowned putting coach David Orr – a 2019 Golf Magazine Top 100 Teacher, and creator of the Flatstick Academy in Southern Pines, North Carolina.
David shares what he has learned about the value of doing on-line putting instruction – for golfers and for golf instructors.

When you read putting instruction information on line and in magazines, think about what part of that information is Relevant To YOU!

The most asked putting question – Using A Line On The Ball.  David shares how to effectively practice using it, and how to know if it helps or hurts your putting performance.

One of the best ways to use Indoor Practice is to Lock In Your Stroke Setup.  He talks about the most important ways indoors to practice and improve your setup.

Improving your Putting Mental Skills – struggling with Anticipation and Expectations.  

We talk about some of the best indoor putting mats that are available for golfers – and things golfers should NOT do when hitting putts indoors.

Finally, David ends with sharing that we need to learn to LOVE Putting if we want to become great putters.  And how learning to Watch The Ball Roll Out on all putts is a great training tool.
THANKS DAVID for helping all of us to Improve Our Putting!
Useful Web Links:
Learn more about David Orr and Flatstick Academy – CLICK HERE!
Learn more about Wellputt Putting Mats – CLICK HERE!
Learn more about the new Visio Putting Mat – CLICK HERE!
Shout Out!
To my friends at Alpha Golf – thanks for all of the custom fitting and building supply and support you provide to all of us – and the great club designs you have created!
I Create EXCEPTIONAL GOLF CLUBS
You Shoot LOWER SCORES!!
Tony