Podcast: Play in new window | Download
AimPoint Express Success!
Putting Guru Oli Leett Shares How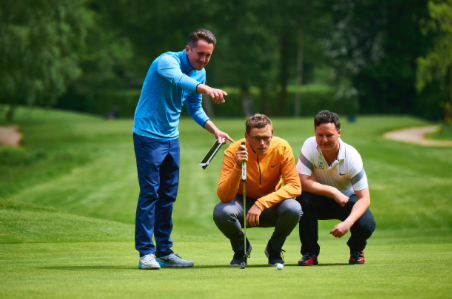 Welcome to Episode 154 of THE Golf Improvement Podcast!  Dedicated to sharing useful information on true custom club fitting, short game improvement, and effective practice techniques.  I Create EXCEPTIONAL GOLF CLUBS – You Shoot LOWER SCORES!
Show Notes:
Interview with putting guru and good friend Oli Leett – creator of the Leett Putting Hub at the Tim Hall School of Golf in Gorsley, United Kingdom.
Oli shares his Personal Golf Story – what brought him to golf, and to becoming a golf instructor.

He tells why he has a particular focus on putting, how he created the Leett Putting Hub, and how he landed at the Tim Hall School of Golf.

Oli talks about why he loves teaching the AimPoint Express green reading technique, and how he worked toward becoming a Level 3 AimPoint Instructor.

He has taught AimPoint Express to more than 700 golfers – from young golfers to tour level players!  He shares a little about what happens in an AimPoint class.

Oli enjoys teaching the entire "putting improvement package" to golfers, and he loves putting that putting improvement package together for golfers.

Oli's Final Words to golfers – Find An AimPoint Instructor near you, you will not regret it!  And he also talks about his own wonderful podcast "Read It, Roll It, Hole It!"
THANKS OLI for what you do to help golfers MAKE MORE PUTTS!
Useful Web Links:
To find Oli Leett at the Leett Putting Hub – CLICK HERE!!
To find an AimPoint Express Instructor near you – CLICK HERE!!
To learn about the Spider Golf Putting Training App – CLICK HERE!!
Shout Out!
To Aldila Golf and my contact there Steven Gandalfo – THANKS for all you continue to do to help me create and improve my custom driver fitting system!
I Create EXCEPTIONAL GOLF CLUBS
You Shoot LOWER SCORES!!
Tony