Podcast: Play in new window | Download
Steven Yellin Talks SIMPLICITY
The Golf Improvement Book of 2020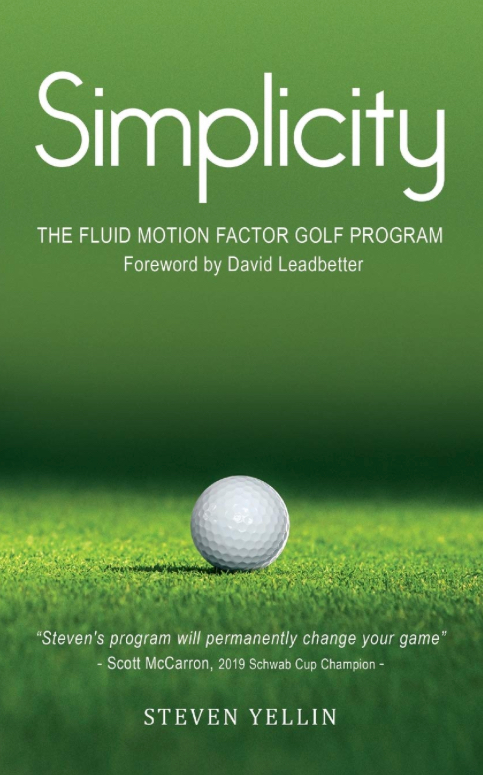 Welcome to Episode 157 of THE Golf Improvement Podcast!  Dedicated to sharing useful information on professional club fitting, short game improvement, and effective practice techniques.  I Create EXCEPTIONAL GOLF CLUBS – You Shoot LOWER SCORES!!
Show Notes:
Welcome Steven Yellin – Creator of the Fluid Motion Factor program, and author of the best-selling golf improvement book Simplicity.
Steven shares what it has been like as he says "chillin" in Iowa during the pandemic.

He talks about why and when he decided to write Simplicity, and why he chose this name as the title for his book. (He actually wrote much of the book 3 years ago!).

He discusses what originally lead him to realize that using Fluid Cues would help golfers and athletes access Fluid Motion.

There are four Fluid Cues that Steven shares in Simplicity – he gives an overview of each of these cues.

"Changing A Swing" – "Swing Prison" – "Hitting The Wall" – these are three of the what I call "encore" chapters in the book.  He provides some takeaways from these chapters.

"What if we default to our old bad swing ways when we make a change?"  Steven responds to a direct golfer question with some interesting insights!

He shares a bit about his very successful relationship with Scott McCarron, who has had amazing success in the Champions Tour.

Finally – Steven shares some final Golden Final Words for golfers who want to use the concepts in Simplicity to Play Their Best Golf.
Congratulations On An AMAZING Golf Improvement Book Steven!
Useful Web Links:
To purchase SIMPLICITY – CLICK HERE!
To access Steven's Fluid Motion Factor web site – CLICK HERE!
(AND if you like Facebook, friend Steven in his Facebook Page – for some weekly insights to help all golfers play their best!).
Show Notes:
To two very smart friends – Bob Simms coach of the St. John Fischer golf teams in Rochester NY, and Juan Gutierrez, author of the best-selling book Make More Putts.   Thanks for helping me be a better putting coach for the Roane State Community College golf team!
I Create EXCEPTIONAL GOLF CLUBS
You Shoot LOWER SCORES!!
Tony – STAY SAFE!!