Putting More Emphasis On Making
Golf Club Iron Length A Fitting Priority!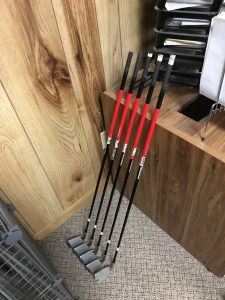 Well, you have to do something when the weather is really awful, right?
Last July I wrote a blog post titled "Don't Ignore Golf Club Iron Length."  This past week I built some new test clubs to help me improve my testing for the best iron lengths for golfers.  Why? – to get golfers into consistent athletic postures with their irons, and help promote more center face hits and create more distance.
The picture shows 5 new iron length testing clubs – all with UST Comp 65 (65 gram) graphite shafts.  6 iron club lengths from 37 inches to 38-1/2 inches – in 3/8 inch length increments.   I also built 5 additional test clubs with FST 115 gram steel shafts – building to the same 37 to 38-1/2 inch test lengths.
My plan now is to start every fitting using these test clubs.  I will focus on two things – find the best length to create  the best golfer athletic setup posture – and also find the length that produces the most consistent center strikes.  And then we can work to finding the best shaft, shaft flex, and overall club weight to optimize performance.
However and wherever you do it if you are looking to be "custom fit" for new irons – do not assume – without good reason – that you are a "standard length iron player."  You deserve better!
    AND – stay tuned next Monday for PODCAST #100!!!
Bringing YOU The Custom Club Fitting Experience
Of Your Life – And Lower Scores ALWAYS!
TONY