This Little Wedge Practice Task Will Help You
Improve Your Short Game Wedge Shots!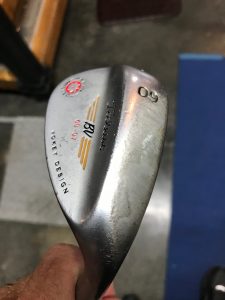 A week or so ago I saw a short video that PGA Professional Ben Pellicani from Pelli Golf in Nashville, TN created – to help golfers learn to use the bounce on their short game wedge shots.  Good old Dr. Scholl's foot powder spray rises again!
Ben Pellicani Wedge Drill 061818
Well – LAST week I regripped the clubs for a golfer who plays to a low single digit handicap – the bottom of his 60-degree wedge is shown in the picture above. It is difficult to hit great short wedge shots with this impact pattern!
SO if you struggle with hitting your short wedge shots well – look at the bottom of your high-loft wedges – what do the wear surfaces look like?  Use the bounce on your wedges correctly, and learn how to use the bounce using drills like the one in Ben's video!
Bringing YOU The Custom Club Fitting Experience
Of Your Life – AND Lower Scores ALWAYS!
TONY