To Glen Coombe, The Putting Doctor – You'll Be Missed!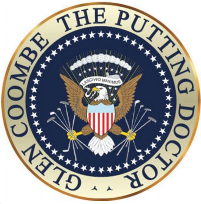 About 6 years ago, I first met Glen Coombe, The Putting Doctor. He attended one of my first AGCP Clubfitting Roundtable meetings, and he was demonstrating the benefits of using the Science and Motion Sports (SAM) PuttLab. Glen is a putting improvement expert, and has been the U.S. sales representative for the SAM PuttLab – THE tool for helping golfers improve their putting stroke. About 2 years after that, I realized that if I was going to get great at helping golfers putt their best, I had to have access to the SAM. So I purchased one from Glen in 2012, he came to Oak Ridge for a day to train me in it's use, and what had been a good friendship became a great one.
Glen has always been there for me as a putting improvement mentor. There are no overnight successes with using the SAM and with learning how to help golfers achieve putting success. I asked Glen lots of questions, and he always had the time to provide guidance on how to interpret SAM data and other information I collected when working with golfers on their putting. I learned many, many subtle things from Glen in the past 3 years. I still am not close to knowing all I need to know – but I am a lot further down that road because of Glen's help.
Well, Glen is about to retire. He will be at the PGA Equipment Show in Orlando in January, and shortly after that will be spending a LOT of time on his beautiful boat. Glen, you are really going to be missed by myself but also by all of the people you have coached and mentored in the past. Thanks for learning and caring so much about putting improvement over the past 22 plus years. You have made a big difference in the lives of many people – see you at the Show!
Any of you readers have some more words for Glen? – Please Comment Below.
Taking YOUR Game To New Heights!
Tony