The 19th (And Final) Leprechan Open
Golf AND Fellowship At It's Finest!!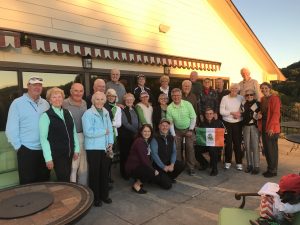 Well no big golf improvement wisdom today – but lots of appreciation for 19 wonderful years with a great group of golfing friends.
Father Michael Woods was the Pastor at St. Mary's Catholic Church in Oak Ridge for 13 years.  He is simply a great person, and he LOVES golf!  19 years ago, Adria and David Herrmann started a small golf event in honor of Father Woods – The Leprechan Open.  It is hard to believe we did this wonderful event for 18 years, and after the 2017 event we thought that was the end.
BUT a small group of "Leprechans" decided One More Time – this time to honor David and Adria for all the joy they helped to create.  We surprised them yesterday – and then had a 9 hole golf event and dinner.  It was a terrific way to close out 19 Wonderful Years of Golf with friends.  Thanks Adria and David and all of you who have been part of this great event – golf leads to great things!
===============
(My good friend and mentor – master custom club fitter Keith Chatham – was to do a podcast interview that would have been published today.  But unfortunately the area he lives in – Kerrville, TX – had massive flooding last week and we had to delay the interview.  Hoping things are getting closer to normal for you again Keith!).
I Create EXCEPTIONAL GOLF CLUBS
You SHOOT LOWER SCORES!
TONY