Download "The Fit Is IT!" This Week For FREE!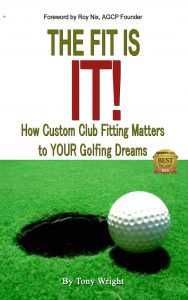 Nearly 3 years ago, I published "The Fit Is IT!" custom club fitting eBook on Amazon.com – in Kindle and print formats. It is fun for me that – in looking back at the content of the eBook – the content is still fresh and relevant to helping golfers understand that True Custom Club Fitting Matters to help them play their best.
So, since Amazon will allow me to offer the eBook version for free every few months – here is a link you can use to download "The Fit Is IT!" from Amazon…
"The Fit Is IT!" Free Download Link!
I know that many of you are loyal readers of my weekly blog and podcast posts, and also of my monthly club fitting and golf improvement newsletter. To help me "spread the word" about the benefits of true custom club fitting to golfers, I have two requests…
First, if you have not read my eBook yet I hope you will download it and enjoy the content in it.

Second, if you know the value of true custom fitting to playing your best golf – please send this blog post link to many of your friends and let me know that they can download my eBook this week for free. How About more than 1,000 downloads of the eBook this week!
If you do not have an Amazon Kindle device, you can go to this link to download a Kindle Reader app so that you can read the eBook…
Amazon Kindle Reader App Download Link
Thanks for downloading, reading, and sharing my eBook. And it's my hope that you play Your Best Golf Ever in 2016!
Taking YOUR Game To New Heights!
Tony