Tom Wishon – The Golfer's Mythoclast –  ABSOLUTELY!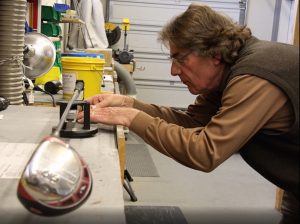 A week ago my wife Diane's phone buzzed and I looked at it – and here was this word MYTHOCLAST.  What the heck is that?  Well, it is, by definition…
MYTHOCLAST – A Destroyer And Debunker Of Myths
Well Tom Wishon, retired of Wishon Golf Technologies – you have been named! Tom retired from full time work over a year ago, but he is still a voice for golfers who want to play their best through understanding the truth about golf clubs, how they perform, and professional custom fitting.  Here is a link to an interview with Tom that was published in Golf Gear Weekly in January 2018…
Golf Gear Weekly Interview with Tom Wishon!
The author of the article notes that: "Tom Wishon is the most prolific golf club designer in the 500 year history of the game."  That by itself should help golfers to pay attention to what he says.  Not because he wants to sell his club designs (which of course he does…) – but because he has a deep passion to helping golfers make informed decisions to Help Them Play Their Best Golf! So I hope you enjoy this article and the guidance that Tom provides to golfers. And I can only wish that I am, or can become, at least 10% of the mythoclast for golfers that Tom has been in his career!
Bringing YOU The Custom Club Fitting Experience
Of Your Life – AND Lower Scores ALWAYS!
TONY 
CLICK HERE – Receive My Blog and Podcast Posts by eMail!