Your "Adjustable" Golf Game…
Make Informed Choices!!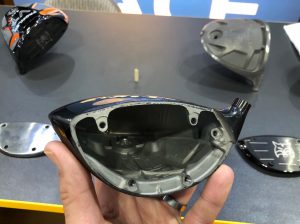 Visiting the Lynx Golf booth at the 2019 PGA Equipment Show was one of the best show choices I made this year.  I learned about their very interesting new driver design – the Lynx Prowler VT.  They call their new technology "Switch Face."  Their driver has only one head option, and has a front face plate that screws on. Using different face plates, golfers will be able to be custom fit with this driver for lofts that vary from 8 to 12 degrees, and face angles that vary from 2 degrees closed to square to 1 degree open.  The expectation is that the Lynx Prowler VT will be available sometime in May of this year. 
I hope that this design is successful!  Partly because it is interesting.  MOSTLY though – because with this driver design, you will able to sit the driver on the ground at address and the face will show at the actual loft and face angle you were fit for.
The majority of OEM driver designs now available to golfers have "adjustable" hosels.  This adjustability allows golfers to set the driver loft at different values – IF you hover the driver face in a square-to-target playing position. So the value of using face angle at address as a fitting parameter – with a specific driver loft – is lost.
I personally want my driver to sit on the ground at address at my fitted loft and face angle.  And my Wishon 919 THI driver (my favorite driver head fitting option) does this – 11.5 degree loft and 0.5 degree closed face angle at address.
So the point?  Well, you may in fact like the loft adjustability options available in OEM drivers – and if so great.  But if you do NOT prefer to hover your driver head at address to get it to play at a specific loft, or if you need a closed or open face at address with a specific loft to play your best – there are custom driver head options available to you.  In the end as in all things golf – You Get To Choose!!  
I Create EXCEPTIONAL GOLF CLUBS
You SHOOT LOWER SCORES!
TONY